Need a new no carve pumpkin idea? These copper wire wrapped pumpkins are an easy and elegant fall decor DIY that also happens to be super budget-friendly!
This post was sponsored by Lowe's as part of an Influencer Activation for Influence Central and all opinions expressed in my post are my own.
Have you ever had a simple DIY project that somehow morphed into a major makeover? I feel like this happens often around my house: Like I decide to give our hardwood floors a thorough cleaning and waxing, and in the process, notice how disgustingly dirty my walls are. So I wipe them down and attack the marks with a Mr. Clean eraser, noticing some nicks and gouges in the process — which leads to patching and sanding and painting… Crazy, huh?
Well, the same thing happened when I started on these simple copper wire-wrapped pumpkins for a campaign I was working on with Lowe's. However, what began as an easy fall DIY project, suddenly morphed into an entire front porch makeover that's still not entirely complete! The snowball effect is real, y'all… But I can't complain too much, because my hubby stepped in to help me pull it all together, and our front entrance is going to look AMAZING for the holidays.
First, let's talk about these lovely pumpkins… I've always adored the minimalist look of white pumpkins, but they can be pricey. I actually almost scrapped my copper wire idea after pricing them locally, but then I received a text from my husband. He's been working at one of the local VA hospitals for the past year, and one of the veterans brought in a HUGE wagonload of pumpkins last week. After receiving a few pictures of the most gorgeous pumpkins and gourds of all shapes and sizes, including white pumpkins, I quickly replied to ask the price. I nearly fell over when he replied that they were a mere $2.50 each. What?!?
You better believe I jumped on that! He came home that day with six large white pumpkins, along with an assortment of six other heirloom pumpkins and two massive grocery bags full of gourds of all sizes — all for $30. Who needs flowers?!? I couldn't wait to wrap them in copper wire.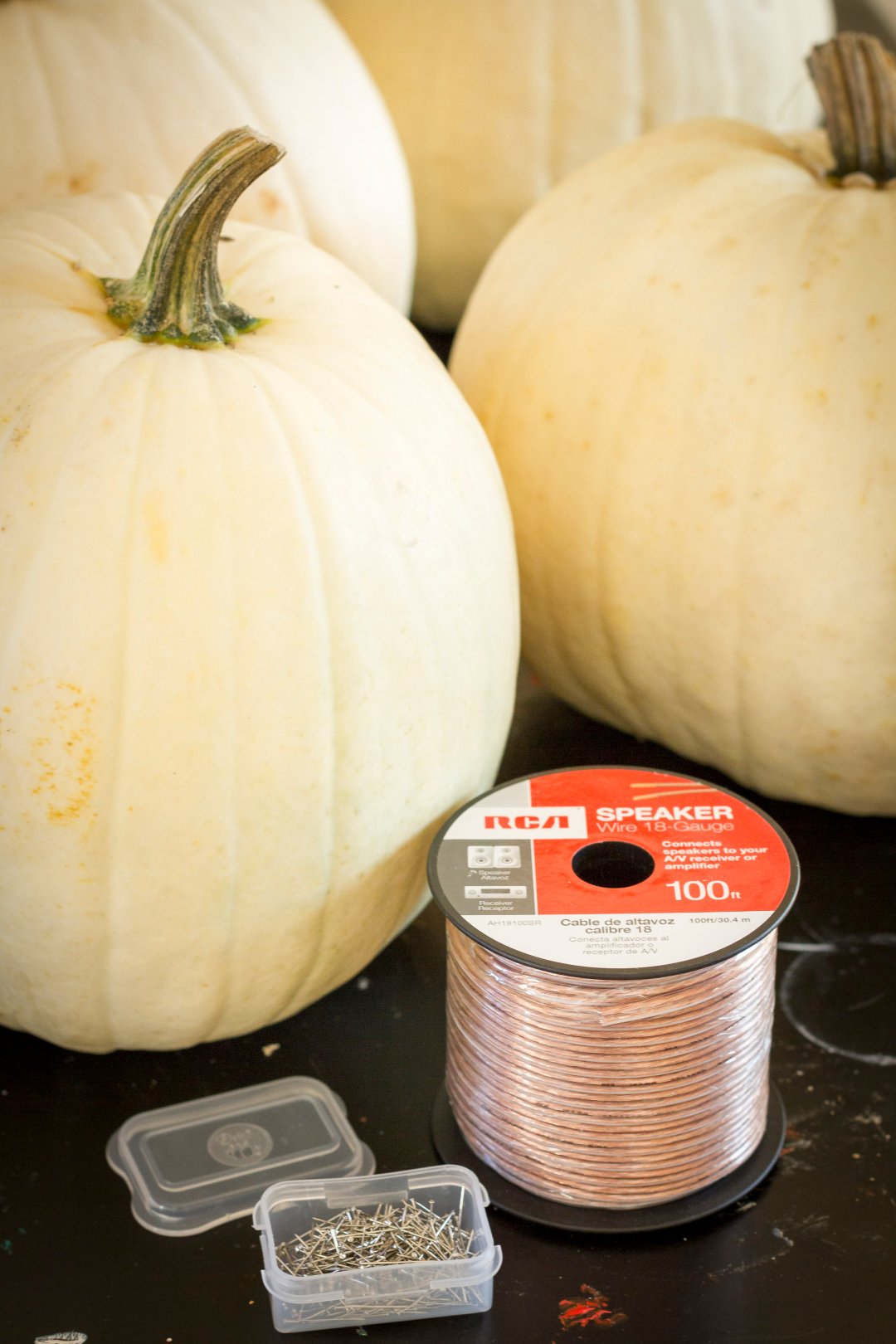 Copper Wire Wrapped Pumpkins
You're probably wondering why I was so worried about the price of the pumpkins when copper wire can be pretty spendy itself. Or not — I actually used speaker wire, which is relatively inexpensive and has the added bonus of the wire being protected from the elements.
Speaker wire is super flexible, which makes it perfect for this task, and you can easily attach it with flathead pins slipped between the two wires. I love the way it dresses these pumpkins up by highlighting their natural lines with the shiny copper color!


Speaker wire has white writing on one side, so make sure to flip it over to hide it. Place the wire as close to the stem as you can get it, and then tack it down with one of the flathead pins. Run the wire tightly down the side of the pumpkin, then snip it off and tack it to the underside. Rinse and repeat all around the pumpkin — then step back and admire your work.
I also divided a few strands of copper wire in half, and used the piece without writing to add little copper wire "vines" to a couple of the pumpkins for a change of pace. Overall, I'm thrilled with how both versions turned out — elegant fall decor at a budget-friendly price!
Simple Front Porch Makeover
Anndddd here's where the snowball effect kicks in. As I was getting ready to move my pumpkins to our front porch, I started to notice how downright shabby it was beginning to look… My wreath was starting to turn black, there were cobwebs everywhere (check the photo, I kept it REAL!), the door needed a fresh coat of paint, and I suddenly remembered I'd been wanting to replace that porch light since we moved in — SIX YEARS AGO.
So copper wire wrapped pumpkins were my starting point, but what I ended up with was a fresh new front porch! And a fun new DIY toy in the process. #checkitbelow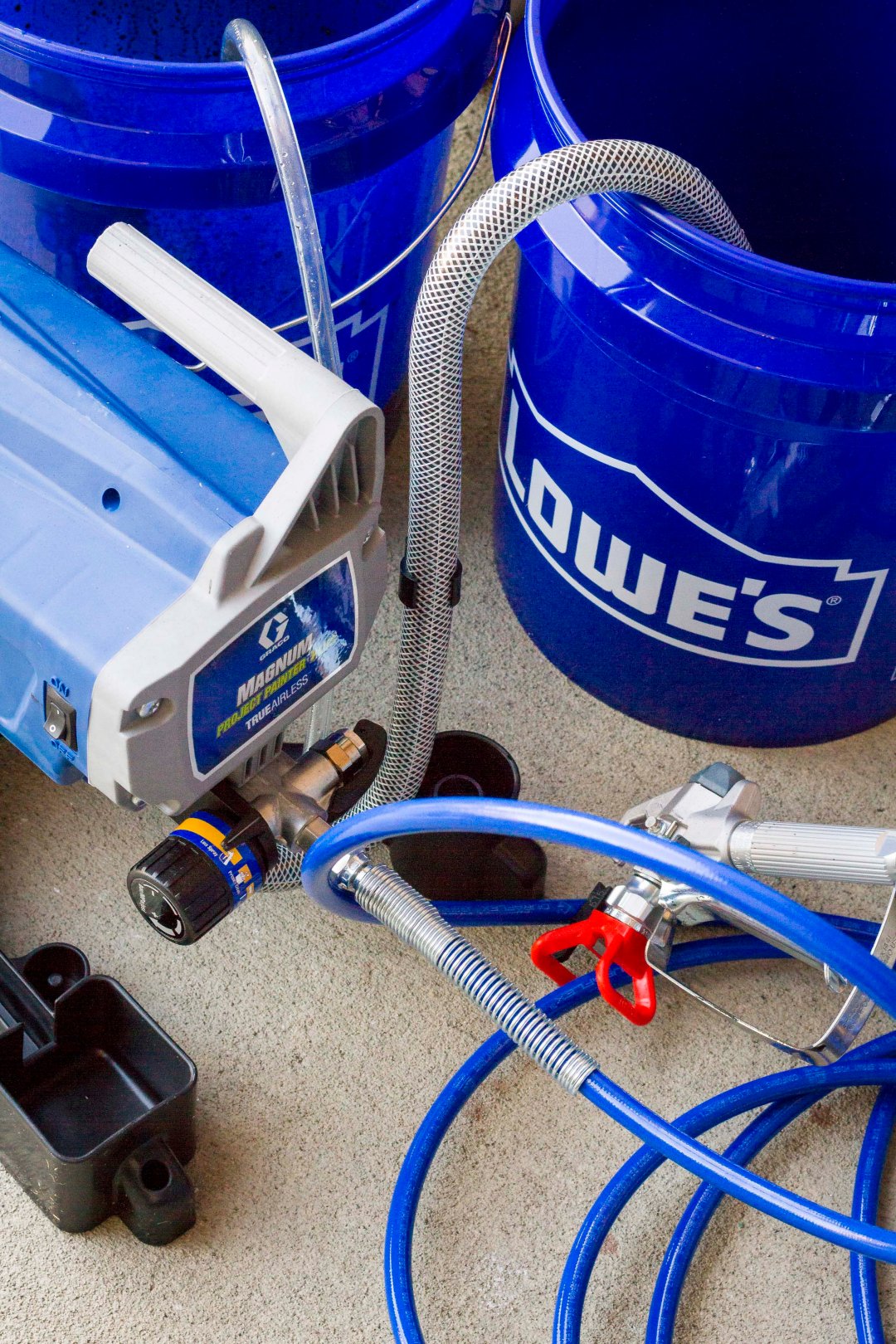 Originally we were just going to roll the paint on the front door, but then my husband decided to start researching paint sprayers. This is totally his MO — he's like a modern day Tim Taylor.
Anyhow, we ended up getting a Graco Magnum Airless Paint Sprayer, because the front door is now just the starting point. My husband aims to paint the entire inside AND outside of the house, and he'll be able to do it in record time with this baby! And by entire, I mean ENTIRE — ceilings and all. Who am I to complain? They do need it.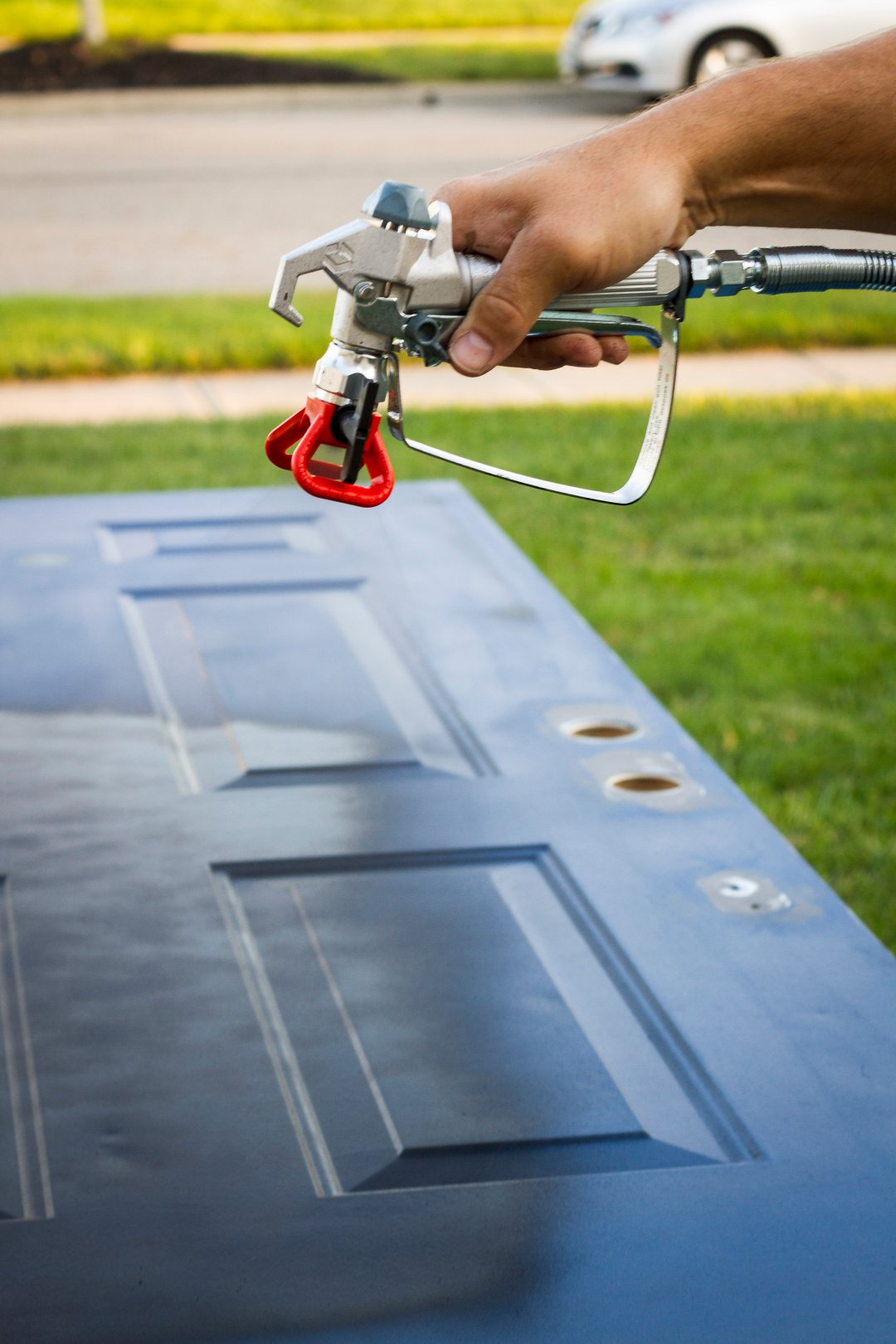 We used the paint sprayer to give the front door and sidelights a quick coat of Valspar Project Perfect Satin Black Latex Enamel, and it did an amazing job! There IS a bit of a learning curve to using it, so I'm glad we started with a smaller project like this. But the finish is beautiful and worth the effort, and I think it will be smooth sailing from here. I'll make sure to give a more in depth review soon, but so far it gets a BIG thumbs up!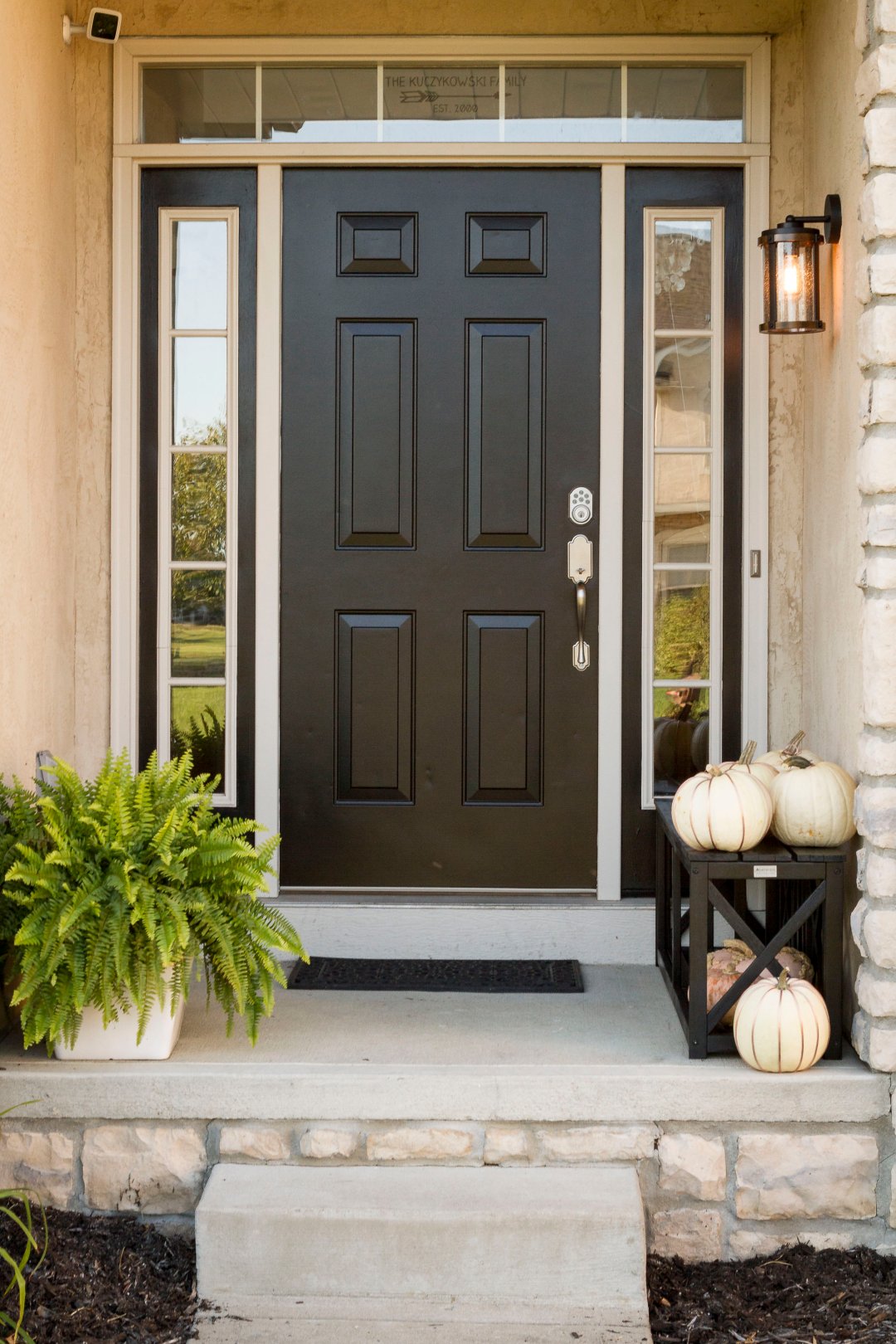 Front Porch Reveal
Here's the kinda sorta after… There are still a few things we want to do, but we did check off a new black coat of paint on the door and sidelights, as well as on a little bench that had previously been looking sad and tired on our back deck. I also got the porch light of my dreams (and will be updating the garage lights to match SOON), plus an upgraded doorbell, and I gave the cover plate on our keyless entry system a coat of Rust-Oleum Satin Nickel Spray Paint. Finally, we added a new door sweep to stop the cold winter drafts we noticed last year while we had the door off the hinges. Then I dressed it all up with my cute copper wire wrapped pumpkins! #lovethem
What's left to do? You can't see it from the pictures, but the trim has some peeling areas that need sanding and painting attention. And I'm on the hunt for a new wreath for the front door. I'm 99% sure I'm going to snag this one from Lowe's, but I wanted to wait a little longer for the paint to cure before sticking my ultra-strong magnet hook back on the door. I think the red berries will be so striking against the black backdrop! Eventually we'll replace the front door altogether (hello dents!), but in the meantime, I'm SO happy with this refreshed look. I've received tons of compliments from our neighbors already.
YOUR TURN! Tell me all about your DIY snowball(s)… Surely I'm not the only one!?
Whatever your DIY needs, Lowe's is THE destination for fall DIY projects, as well as cute fall decor items — like the wreath I'm planning to order and more!
3